Have you ever felt that there was something mystical in the air? Now, I am not at all of a mystical disposition or prone to or irrational metaphysical inclinations, but some days the conjunction of personal demeanour and natural phenomena can leave you with a mysterious, even mystical feeling. Today was such a day.
Not long after breakfast I looked out from the kitchen window at the cliff opposite, the apocalyptically named Cirque du Bout du Monde, as I often do to admire the ever-changing light and colours of the landscape, particularly at this time of the year. On this occasion I was rewarded by a beautiful rainbow surging, it seemed, from the edge of the cliff up and across the western sky. As I watched it began to fade, then intensified until it shone like no other rainbow I've seen. This wasn't perhaps unusual given the intensity of the sun even thought it was barely 9am on a January morning.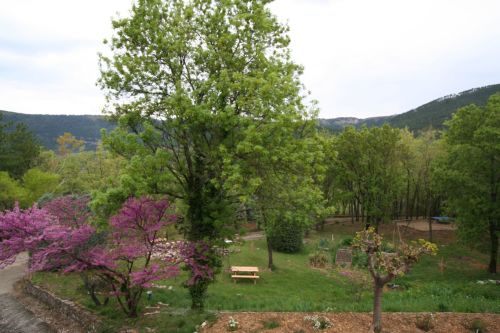 Now, rainbows are not that uncommon, even in these drier regions of southern Europe. What was unusual though, was its persistence throughout the day; it was far from the usual ephemeral affair, fading to nothing after 15 or 20 minutes. As the day progressed, the rainbow moved steadily eastwards across the cliff, inversely as the sun made its westward arc in the sky opposite. The height of the rainbow changed too, imperceptibly and inversely with the elevation of the sun. Dipping lower and lower as the sun rose, it barely appearing above the cliff at midday. By late afternoon, the band of colours was rising sharply again from the cliff, this time arcing up and eastwards as the sun dipped in the western sky.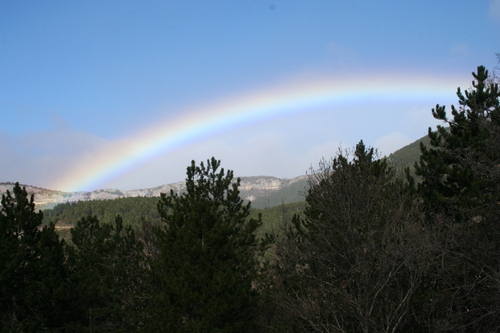 Sadly, I missed the demise of the rainbow but it was sometime before the sun finally set behind the pine-clad hill to the west; I felt quite bereft when I realised it was no longer to seen across the valley.
For a day, the always beautiful vista of the Cirque du Bout du Monde above the Gourgas valley had taken on an unusual, mystical and even more beautiful air.